Dear Community,
The idea of providing Goobi that is as easy to install as possible is not entirely new. The only thing that was difficult was to figure out how to do this technically. In April 2016, we made the first markup and provided a Goobi to go at the Archiving Conference 2016 . The technical background was a bit different at the time, but at least the Goobi workflow was already running, albeit with some technical requirements.
At some point in 2017, we fundamentally redesigned the technical concept behind Goobi to go so that on a "normal" computer it should feel like a "normal" application that you can start and stop. Surprisingly, this worked pretty well pretty quickly. All of a sudden, it was possible for Goobi workflow and Goobi viewer to be launched locally without any major technical hurdles. Completely new application scenarios quickly developed that we hadn't even thought of at first. All of a sudden, Goobi to go was no longer just something that could be tried out easily - what it was actually designed for. Instead, we received an increasing amount of feedback, particularly from institutions already working productively with Goobi (Aktualität von Goobi 2 Go), which showed that Goobi to go also seems to be a useful tool for supporting productive operations. New plug-ins are tested before they go live, metadata mappings are tested, new workflows are designed for other publication types and, apparently, much more besides. I was surprised to see what Goobi to go could suddenly be helpful for. But I, too, have already benefited a great deal from Goobi to go. I often work with it in training courses and we have used it in workshops at the Archiving Conference and the IIIF Conference. And Goobi to go is also great for documentation purposes and training videos.
But we did have one difficulty with that: Java 8 - the fact that we currently require a specific Java version for Goobi workflow and Goobi viewer, which must be installed on the respective systems as a technical prerequisite, kept getting in the way. This is explained in the instructions and is actually not difficult. And yet it has too often led to problems and misunderstandings. For this reason, we have made some significant changes at this point to better overcome this hurdle. For a few days now, we have been making a completely revised version of Goobi to go available for download from the following website:
From now on, the special feature of this new version is that we now offer operating system-specific download packages for Goobi to go. This means there are now separate downloads for Windows, Mac and Linux. From now on, the required Java version is simply included in each of these packages. In addition, each download package has a startup program that boots up Goobi to go and uses exactly the Java version that we have brought with it. In the case of Windows, for example, there is now a *.exe file that you click on. This should prevent the most frequent "unfortunately it doesn't work for me" messages. This is what it looks like after the download: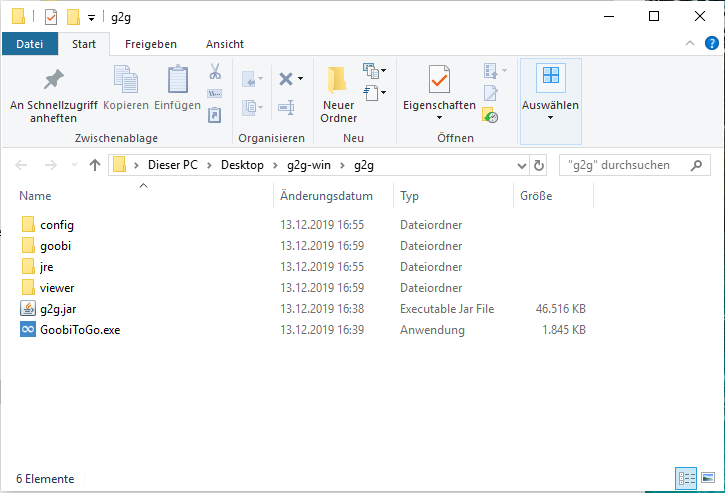 So, dear community, give yourselves a break and take advantage of the Christmas season to put the revised Goobi to go through its paces. Is it going that well? Are there any technical difficulties somewhere? If so, we would be delighted to hear from you.
And if you don't start testing until January, that's no problem either. : I wish you all a Merry Christmas.
Best wishes,
Steffen